My first trip on the Circle Line in Yangon, back in 2008 (described in the post The Circle Line, Yangon) allowed me to identify the main locomotive works of Myanma Railways at Insein, a few miles north of downtown Yangon.

It was not until 20th September 2012 that I discovered that there was a second locomotive works at Ywa Taung (not too far from Mandalay). I'd been with the Doctor to make donations to the Monastic School at Taung Be Lar (described in the post Mandalay) and we took a different route returning which took us past Ywa Taung Station. We stopped and I took a number of pictures which are in the album here (together with additions from later visits).

The Rangoon Guide Map of 1930 (published under the direction of Brigadier R. H. Thomas D.S.O., Surveyor General of India) shows the Works, to the west of Insein railway station.



1930 Map of Insein area (more pictures of the 1930 map are here).

On subsequent Circle Line Trips I'd looked 'over the wall' at Insein Works but it was not until my friend, the Doctor, obtained permission for a visit on the 6th May 2015 that I was able to gather more information.

Visit to Insein Locomotive Works

We reported to the Time Office at the Main Gate and were welcomed by the Works Manager before one of his staff took us on a tour of the Works. Despite the urban environment, we first passed through a pleasant landscaped area with a concrete sports ground on our left.


The landscaped area near the main gate.

However, we quickly passed into a more unkempt but attractive wooded area with a number of diesel locomotives either awaiting 'shopping' or cannibalisation for spare parts.


DF.1318 (and others) slumber beneath the trees in Insein Works Yard.

Nearby, I found the remains of a number of cut-up steam locomotives. As a dyed-in-the-wool steam enthusiast, I regret the loss of any steam locomotive but it has to be said that there is great educational value in being able to see the internal construction of these machines.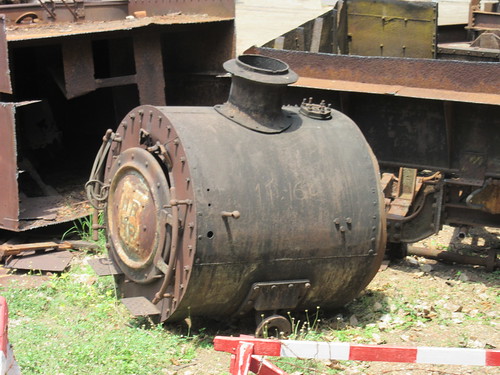 Insein Works: Cut-up steam locomotives.

Overlooking this scene of destruction was a plinthed outside-cylinder 0-6-0 oil-burning saddle tank, running number SL3 and gaily-painted.


Plinthed SL3 at Insein Works.

The principal business of Insein Works is carrying out heavy repairs on the fleet of diesel electric and diesel hydraulic locomotives. This task is shared with Ywa Taung Locomotive Works. Insein also carries out re-engining and rebuilding as necessary. The main works at Insein comprises two large, parallel, interconnected bays: the Machine Shop and the Erecting Shop.


The Machine Shop.

Most of the machines are British and date from the immediate post-World War II period. Burma Railways emerged from the war in a particularly weakened condition and, although Britain initially provided assistance, the coup which led to military rule had the effect of largely isolating Burma from foreign aid until recently.


Part of the Erecting Shop, looking north.
DF.2022, showing racks of electronics.

A number of the locomotive classes I'm familiar with were visible, in various states of 'undress', but my attention was drawn to a locomotive with a very large cab. This was a rebuild by Insein of a Japanese class DD-51.


Part of the Erecting Shop, looking south, showing rebuilt Japanese DD-51 locomotive.

In its original form, this diesel hydraulic locomotive class had two 1100 h.p. engines and was carried on six axles with the two axles under the cab unpowered (B-2-B), giving an overall length of 18 metres! Designed for freight and passenger use, I believe the large cab originally accommodated a steam boiler for train heating. There's a Wikipedia article here.



DD-51 as originally built (By ja:User:出々 吾壱, via Wikimedia Commons).

I wasn't able to make a detailed study, but Insein appear to have removed one engine and power bogie, producing an 1100 h.p. variant.

I was delighted to find one steam locomotive under active restoration with, apparently, another to follow. I was told that they had already 'outshopped' one restored steam locomotive which is now available for tourist trains in the Bagan area.


The frames of a 2-8-2 being aligned, using traditional methods.

I made a rapid tour of the Scrap Line outside, recording what I could.


Part of the Scrap Line at Insein.

I reluctantly concluded my tour, impressed by the ingenuity, professionalism and friendliness of the staff. Before I left, the Works Manager gave me a copy of a booklet 'Brief Information of Insein Locomotive Workshop', updated to April 2015.

My pictures

Insein Locomotive Works, Yangon.
Insein Locomotive Works: Machine Shop.
Insein Works: Cut-up steam locomotives.
Insein Works Scrap Line.
Restoring steam locomotives at Insein.
Plinthed SL3 at Insein Works.

[Text, pictures and 1930 map added 25-May-2015]